We're sad to see you go :(  We also understand that sometimes we all want to cut down on the amount of email we receive, so we've made unsubscribing from Rafflecopter emails easy.
Transactional Emails
To turn off emails we send related to your account, visit your account settings page: https://www.rafflecopter.com/rafl/me/
At the bottom of the page under Notifications, simply uncheck the box.

Marketing Emails
You can find an unsubscribe link at the bottom of all of our marketing emails. Click this link and you'll be unsubscribed from all Rafflecopter marketing emails. See below for an example of what this link looks like.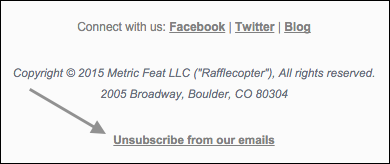 Of course, you can always send a request to support@rafflecopter.com to stop receiving either transactional or marketing emails.